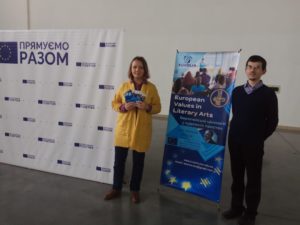 It's almost impossible to keep out of Zaporizhzhya Book Fest taking place in Cossack Palace on October 26 – 28, 2018! EUVOLIA team has taken advantage of this wonderful event to promote the project on European Values in Literary Arts among the local community.
Throughout Saturday, October 27, our delegates Stan Cherkasov, Kateryna Kasian and Olena Tupakhina had been keeping a vigil close to the project's banner to inform the Book Fest guests about EUVOLIA opportunities and encouraging people to take part in our survey. The honourable guests of EUVOLIA pannel included Prof. Valentyna Botner, the member of the Book Fest Jury; Prof. Natalia Torkut, Book Fest event moderator; Prof. Rusudan Makhachashvili, Head of the Chair of Translation of Kiev National Borys Grynchenko University. We also had a meeting with the Head of Literary Union of the local department of the Ukrainian Writers League, Anna Lupynos, who eagerly supported the idea of Zaporizhzhya writers' participation in EUVOLIA events.
Many thanks to all those who made the Book Fest 2018 possible – and hope to see you next year!