As COVID-19 keeps us locked at our homes and glued to the screens, EUVOLIA holds yet another project defense session online. Despite the facts that the lockdown definitely has a strong impact upon academic process, all our course attendants managed to submit their projects in time – and seem to have enjoyed the results just like we do!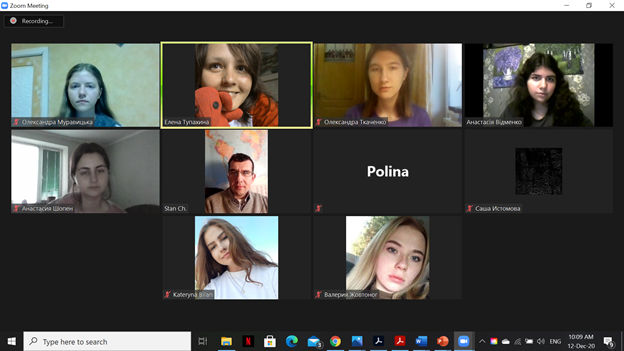 Among the projects defended this semester, a music video Kino (Cinema) by Antytila stands out as one of the brightest discoveries. The group led by Oleksandra Tkachenko dug deeply in the symbolical code of the video showing its evident ties with current political situation in Ukraine and explaining its powerful imagery through the scope of European values of democracy, human dignity and freedom. The paternalistic state model – the one we discussed while reading North and South – is what the musicians from Antytila wanted to discuss and disapprove of in their video. The jury, consisting of Stan Cherkasov, Oleksandra Nikolova and Olena Tupakhina, specifically enjoyed the way the students managed to grasp and deconstruct the core binary dychotomies of the video – i.e., the Clown vs the Crowd.
Another interesting piece of pop-culture to be discussed this semester is Zlata Ognievich's Goddess music video attracting attention due to its explicit focus on gender equality, individuality and tolerance. However, as the students aptly pointed out, Ognievich doesn't go that far when treating queerness or LGBT issues: for her, such manifestations of Otherness look still marginal, moved away to an overtly carnavalized spaces, such as night clubs.
Ukrainian TV series Papik (Sugar Daddy) looks like a must for every group of students to pay attention to. This year, it has been analyzed by Kateryna Bilan and Valeria Zhovtonog through the lens of social stereotypes.
The full video of the defense process is available here