April 8, EUVOLIA team member Olena Tupakhina presented Zaporizhzhya National University's EU project implementation experience on a regional conference "Eurointegration: Power of Opportunities". Dr. Tupakhina specifically highlighted the importance of EUVOLIA project for the young Ukrainian citizens' European identity construction, which is the key to successful pro-European development of our country. We're also pleased to inform that EUVOLIA achievements have been marked by the Vice-Prime minister in European and Euroatlantic integration issues, Ms. Ivanna Klimpush-Tsintsadze , during her visit to ZNU.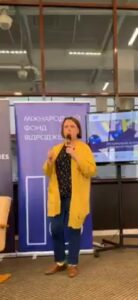 The conference held by the Office of Vice Prime Minister in European and Euroatlantic Integration Issues alongside with the Reform Support Foundation and Western NIS Enterprise Fund (WNISEF) within the frames of EU Association4U initative has provided the academic community with an opportunity to establish a fruitful dialogue with the regional business and civic society entities upon the joint pro-European activities strategy. As for the EUVOLIA team, we established partner contacts with Civic Synergy project financed by the EU and implemented by IRF. We're looking forward to seeing our new partners at EUVOLIA activities and events!
Detailed info available at the Government Portal and Vice-Prime Minister's Facebook.
Olena Tupakhina's presentation stream is available here.