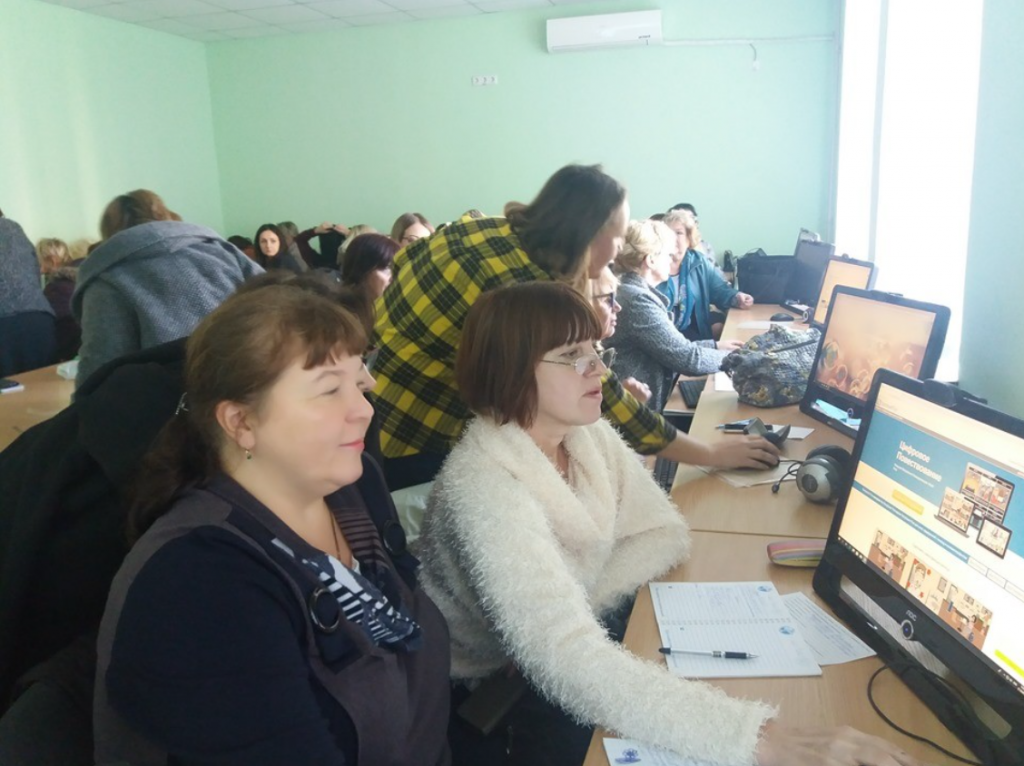 School vacation is the best time for the teachers to improve their teaching skills. This is why Zaporizhzhya National University has scheduled its traditional Philology Teachers' Training Workshop for the last day of October, and EUVOLIA team has gladly joined the event.
This time, the project's results had been presented during Olena Tupakhina's workshop on project focused approach to teaching literature. The teachers were introduced to the basic principles of the project-oriented approach and had an opportunity to practice their digital skills when working with such services as HeySpace (for small projects management), Storyboard That and Wordcloud to make the groupwork in and out of the classroom more entertaining and diverse.
The projects prepared by EUVOLIA students served as an evident sample of what the project-oriented approach might lead to; Olena Tupakhina also shared EUVOLIA guidelines and recommendations for student group projects and highlighted the strong points of using fiction as a case study for axiological conflict, which is one of EUVOLIA's foundations.
All the teachers present at the workshop expressed their desire to continue their professional training with EUVOLIA and unanimously signed for the next EUVOLIA workshop to be held in April 2020.
Details available here.
EUVOLIA Round Table "European Values for the New Ukrainian School": Full Program Available
28.10.2019

Location: Zaporizhzhya National University, Zhukovskogo str., 66, room 61 (European Studies Hall)
Partners: Jean Monnet Modules "Enforcement of European Union Values in Ukraine" (Sumy State University), "Pan-European Convergence of Legislative, Economical and Cultural Foundations for Prevention of Corruption" (Zaporizhzhya National University), "European Project Culture" (Zaporizhzhya National University), Zaporizhzhya Regional Society of Central and Eastern Europe Culture and History Researchers, Ukrainian Shakespearean Centre
Program:
09:30 Participants registration. Morning coffee.
10:00 Official greetings
10:20 Discussion (session 1)
European Values at School: Teaching or Sharing? Traps of traditional approaches
Me and the Other: European values within the context of intercultural communication. Fiction as a case for understanding values
12:00 Coffee break
12:30 Discussion (session 2)
European Values as a Historical and Legislative Phenomenon: Myths and Facts
13:30 Conclusion: working out recommendations for the Ministry of Education and Science of Ukraine
Full version of the program is available here